GOLDEN GATE THEATRE PARKING
Your space is waiting.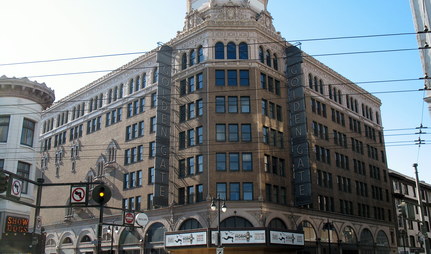 1 Taylor St, San Francisco, CA, 94102
Book now and spend more time on the fun.
BROWSE ALL EVENTS
About Golden Gate Theatre
New York isn't the only city with quality Broadway shows. Located at 1 Taylor Street, the Golden Gate Theater continues to amaze and inspire audiences with its emotionally powerful musicals. Even with seating for almost 2,300, shows fill up quite quickly, meaning that any Golden Gate Theatre parking spaces nearby are often filled unless you book in advance. Luckily for the theater-goer, ParkWhiz can take care of all your Golden Gate Theatre parking needs by allowing you to take the power of the Internet in your hands and book a space before the show!
Like many other theatres of its kind, the Golden Gate Theater opened to the public in 1922, first functioning as a venue for vaudeville shows. After vaudeville declined, the Golden Gate showed movies on a Cinerama screen in the 1960's. In the '70s, the theater was restored to its former opulence, both inside and out. In the theatre proper, the sunset-gold colors of the walls glimmer under the lighting, while the ruby red seats look inviting and comfortable, facing an exquisitely eloquent stage. The theatre can be recognized from the outside by its domed top and five ascending double-windowed balconies on the side.
The Golden Gate Theatre has hosted innumerable shows over the years, including such gems as Sweeney Todd, a Chorus Line, Hairspray, Chicago, Rent and Mamma Mia! Many celebrities have performed here, including Diana Ross, the Mythbusters, Hugh Jackman and Jackie Mason. Performers don't have to worry about parking,but you do. With ParkWhiz, you can feel like a Broadway star by parking like one--book your parking spot in advance so you won't be late to the show!
ParkWhiz makes parking on your own feel so 20th-century! With its intuitive website, all you need to do for Golden Gate Theater parking is find your event, book a parking spot and print out your parking pass. When you print it out, bring it with you and park in the spot that you booked and enjoy the show. The theatre may be from the 1920s, but with ParkWhiz, you'll feel like you're in the 2020s.
San Francisco parking at other popular destinations:
DISCOVER
AMAZING
SPACES
Find parking anywhere, for now or for later
Compare prices & pick the place that's best for you
Find parking anywhere, for now or for later
Compare prices & pick the place that's best for you
RESERVE
PREPAY
& SAVE
Book a space in just a few easy clicks
Save up to 50% off standard rates
Book a space in just a few easy clicks
Save up to 50% off standard rates
DRIVE
ARRIVE
& PARK
Enter easily with your mobile parking pass
Your space is waiting – pull in and go do your thing
Enter easily with your mobile parking pass
Your space is waiting – pull in and go do your thing
GET TO KNOW US
BETTER FOR BUSINESS
LET US HELP YOU
WE'RE SOCIAL
CANADA