NATIONALS PARK PARKING
Your space is waiting.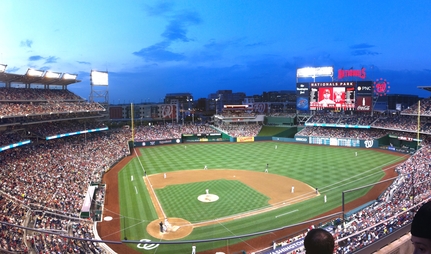 1 Potomac Ave. SE, Washington, DC, 20003
Book now and spend more time on the fun.
BROWSE ALL EVENTS
About Nationals Park
The Nationals moved from Montreal into the nation's capital in 2005, but they didn't really arrive in the Washington, D.C. until they moved out of withering RFK Stadium and into the new, baseball-specific Nationals Park. Fans now head into the Navy Yard district for Nationals parking instead of the giant outdoor lot that surrounds RFK. It's well worth the exchange, as the Nationals now have a stadium they can really call "home."
The differences between Nationals Park and RFK are stark. Mainly, RFK was a football stadium, constructed for the Redskins (who, ironically moved in from a baseball park, Griffith Stadium). The old Washington Senators baseball team played in RFK for 10 years before moving to Texas, but the venue never had the feel of a great ballpark. The bowl-structure never let a fan feel like he was outside. And the amenities were dated, just like any venue built 50 years ago. In fact, while the Nationals played at RFK, it was the fourth-oldest active ballpark behind only Fenway Park, Wrigley Field and the old Yankee Stadium. The only advantage was a huge on-site lot for Nationals parking.
So Nationals park parking became challenging once the move was made to the Navy Yard. But it's well worth it for fans, as they now enjoy a real ballpark fit for baseball. Nationals Park has a scoreboard over 100 feet long, over five times the size of RFK's. To celebrate its stature as the United States' capital, it planted a cherry tree beyond the outfield walls to pay tribute to George Washington. It also honors the country's first president by running him around as a mascot in a race between himself, Thomas Jefferson, Abraham Lincoln, Teddy Roosevelt and William Howard Taft.
There's no greater American tradition than baseball, and ParkWhiz helps you enjoy this timeless sport by reducing the Nationals parking hassle. Book a space in advance to lock in Nationals Park parking to know exactly where you're going, and for how much, before you leave your house.
Washington DC parking at other popular destinations:
Nearby MLB Stadiums with Parking:
DISCOVER
AMAZING
SPACES
Find parking anywhere, for now or for later
Compare prices & pick the place that's best for you
Find parking anywhere, for now or for later
Compare prices & pick the place that's best for you
RESERVE
PREPAY
& SAVE
Book a space in just a few easy clicks
Save up to 50% off standard rates
Book a space in just a few easy clicks
Save up to 50% off standard rates
DRIVE
ARRIVE
& PARK
Enter easily with your mobile parking pass
Your space is waiting – pull in and go do your thing
Enter easily with your mobile parking pass
Your space is waiting – pull in and go do your thing
GET TO KNOW US
BETTER FOR BUSINESS
LET US HELP YOU
WE'RE SOCIAL
CANADA