Select the start time and end time
for your booking here.
75 Schermerhorn St.
Edison ParkFast - 75 Schermerhorn St. Lot
About This Facility
With the iconic Brooklyn Bridge less than two miles away, parking in Brooklyn with Edison ParkFast doesn't come easier than our Livingston Street elevated garage and parking lot. A commuter's dream, our NYC parking locations surround the Brooklyn Bridge area, giving you plenty of options for your next Brooklyn visit.
Max Vehicle Height: 6'0"
💲💲 This location has oversize fees for large vehicles. For a full list of oversize vehicle makes/models go to www.parkfast.com/oversized-vehicles.
💲💲 Any vehicle taller than 70" or wider than 86" will be considered an Oversized Vehicle. This includes any aftermarket modifications. Charges for any vehicle will depend upon overall length. You must select the corresponding add-on fee for your vehicle type during checkout; otherwise, you will be subject to an additional fee onsite.
1/3
Operated by Edison ParkFast
How to Park
1.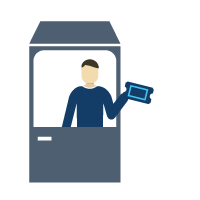 Upon arrival, show your pass to the attendant and they will hand you a ticket
2.
The attendant will confirm your reservation and valet park your vehicle. Be sure to take the ticket you received with you when exiting the facility
3.
Upon departure show the attendant your ticket and pass
4.
Any additional fees incurred (oversize vehicle charges or any additional time outside of your prepaid parking reservation) must be paid before the attendant retrieves your vehicle
5.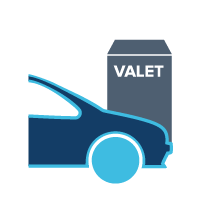 After the attendant retrieves your vehicle you're ready to go.