Select the start time and end time
for your booking here.
167 Essex St.
Edison ParkFast - 167 Essex St. Lot
About This Facility
Traditionally an immigrant, working class neighborhood, the Lower East Side has undergone massive gentrification starting in the mid-2000s. Famous mainstays like Katz's Deli remain, but the neighborhood is also home to upscale boutiques and trendy dining establishments, along with a kickin' latenight music scene.
💲💲 Any vehicle taller than 70" or wider than 86" will be considered an Oversized Vehicle. This includes any aftermarket modifications. Charges for any vehicle will depend upon overall length.
1/2
Operated by Edison ParkFast
How to Park
1.
Take a ticket as you enter and pull forward to where instructed
2.
Show pass to the attendant
3.
The attendant will confirm your reservation and valet park your vehicle. Be sure to take the ticket you received with you when exiting the facility
4.
Upon departure show the attendant your ticket and pass
5.
Any additional fees incurred (oversize vehicle charges or any additional time outside of your prepaid parking reservation) must be paid before the attendant retrieves your vehicle
6.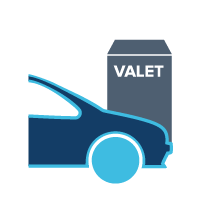 After the attendant retrieves your vehicle you're ready to go