Select the start time and end time
for your booking here.
50 W. 44th St.
Edison ParkFast - 50 W. 44th St. Garage
About This Facility
The heart of Manhattan beats here on 6th Avenue, so the city is yours for the taking. Catch a Broadway show, enjoy the beauty of Bryant Park, visit this historic New York Public Library, or travel the Crossroads of the World at Times Square. While you're here, stay at any of the neighborhood's luxury hotels, including the Algonquin, the Royalton, and the Iroquois.
Max Vehicle Height: 6'10"
💲💲 Any vehicle taller than 70" or wider than 86" will be considered an Oversized Vehicle. This includes any aftermarket modifications. Charges for any vehicle under tow will depend upon overall length.
This location has oversize fees for large vehicles. For a full list of oversize vehicle makes/models go to www.parkfast.com/oversized-vehicles.
Customers are to leave within 15 minutes after the parking pass is validated at the kiosk.
💲💲 Parking outside the reserved parking time frame will result in additional fees.
1/5
Operated by Edison ParkFast
How to Park
1.
Push the green button at the gate to receive a ticket, then pull forward as instructed
2.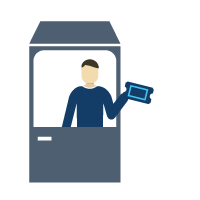 You will be greeted by an attendant who will confirm your reservation and valet park your vehicle. Be sure to take the ticket you received with you when exiting the facility.
3.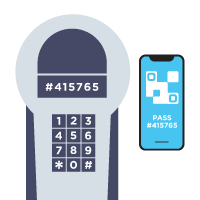 When you return to the facility at the end of your parking reservation, proceed to the main building to scan your prepaid pass and then your ticket at the touch screen kiosk.
4.
Any additional fees incurred (oversize vehicle charges or any additional time outside of your prepaid parking reservation) must be paid before the attendant retrieves your vehicle
5.
After the attendant retrieves your vehicle you're ready to go.