Select the start time and end time
for your booking here.
88 Leonard St.
Edison ParkFast - 88 Leonard St. Garage
About This Facility
From its factory buildings and now-converted loft-style homes to its exclusive restaurants, lounges, and shops, TriBeCa is a must-see New York destination. Find parking in Manhattan, near the Holland Tunnel and TriBeCa with Edison ParkFast. Only steps away from popular destinations, including the 9/11 Memorial and the famous Knitting Factory.
Max Vehicle Height: 7'0"
💲💲 Any vehicle taller than 70" or wider than 86" will be considered an Oversized Vehicle. This includes any aftermarket modifications. Charges for any vehicle will depend upon overall length.
💲💲 This location has oversize fees for large vehicles. For a full list of oversize vehicle makes/models go to www.parkfast.com/oversized-vehicles.
For any concerns, please use the pedestrian entrance for assistance or call (212) 966-6710.
1/8
Operated by Edison ParkFast
How to Park
1.
Take a ticket as you enter and pull forward to where instructed
2.
Show pass to the attendant
3.
The attendant will confirm your reservation and valet park your vehicle. Be sure to take the ticket you received with you when exiting the facility
4.
Upon departure show the attendant your ticket and pass
5.
Any additional fees incurred (oversize vehicle charges or any additional time outside of your prepaid parking reservation) must be paid before the attendant retrieves your vehicle
6.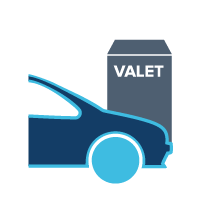 After the attendant retrieves your vehicle you're ready to go